Plasma cutters are great tools for cutting different metal sheets and plates. More importantly, it cuts faster and more precisely with the help of an air compressor. Most plasma cutters come with a built-in air compressor, while others don't have one. As a result, one question arises among beginners, "do you need an air compressor for a plasma cutter."
Yes, plasma cutters need an air compressor to work. In fact, achieving the precise cutting result is impossible without this component. In addition, an air compressor makes a plasma cutter portable for off-the-grid tasks.
I put together some important things in this following guide that are worth knowing.
Do You Need an Air Compressor for a Plasma Cutter?
The simple answer is; plasma cutters require an air compressor to cut in a 2-stage process.
Firstly, the metal gets heated until it is semi-gaseous. Secondly, the plasma forces a burst of air to finish the cut.
For this reason, an air compressor is one of the mandatory plasma cutter consumables. Without it, enough air pressure can't be generated, and thus, the final cut becomes impossible.
If your selected plasma cutter doesn't have an air compressor, you will need to buy it separately. Buying a separate air compressor means you will need to carry it individually, increasing the complication in terms of portability.
Although a plasma cutter with an incorporated air compressor is pretty expensive. But it can save you from carrying an extra component.
What Size of an Air Compressor is Best for Plasma Cutter?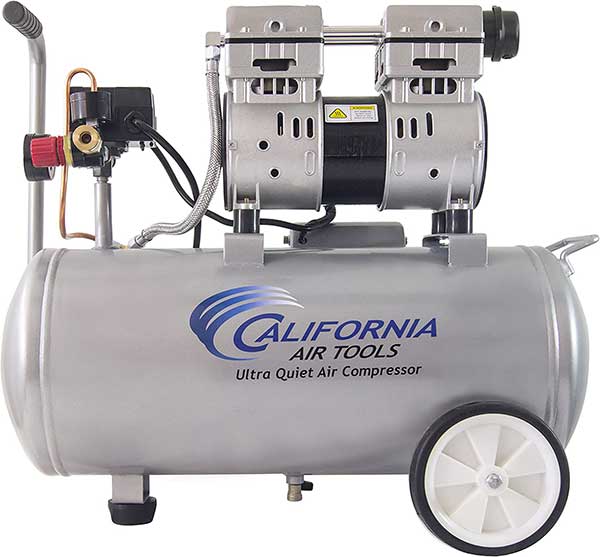 If you buy a plasma cutter without an air compressor, buying one is mandatory. So, what size is best?
When learning the size of the plasma cutter air compressor, the thumb rule is that bigger is better.
As per manufacturers, buy an air compressor with a 1.5X times more cubic ft./minute CFM rating than your plasma cutter. For instance, if your plasma cutter's required CFM rating is 4 @80 PSI, choose an air compressor with a 6 CFM rating. This way, you can avoid low-pressure problems when dealing with heavy loads.
If you are not making a long cut, a small air compressor will be more than good enough. Most users don't make long cuts, such as longer than one minute. For these cuts, buying a bigger air compressor is unnecessary.
One important note is if you make long cuts with a small air compressor, your plasma cutter cannot perform at its best. Your machine may stop working temporarily. It can permanently damage your plasma cutter.
So, it would always be best to go with the manufacturer-recommended air compressor CFM rating.
How to Set the Air Pressure of an Air Compressor?
Sadly, many plasma cutter users set the air pressure incorrectly, leading to unexpected cuts. The recommended air pressure is 90 – 120 PSI based on most machines.
Here, one important note is the pressure varies depending on the type of material, metal thickness, and operation type.
Most plasma cutters come with a built-in air regulator. When setting the air pressure of an air compressor, the best thing is to read the user manual thoroughly. All plasma cutters are not built the same. But all machines have 1 or 2 charts mentioning the recommended air pressure setting based on the operation type. Fine-tune your plasma cutter as per the chart.
The most vital thing is; the air pressure should meet the plasma cutter's requirement to make an efficient cut. With the wrong air pressure, the cut will be ugly. At the same time, the machine will perform inefficiently.
What is the Function of an Air Compressor in Plasma Cutting?
As stated earlier, a plasma cutter uses a blend of electricity and heated gas to cut a wide range of metals. It is pretty similar to cutting butter with a hot knife. But what is the purpose of an air compressor in a plasma cutter?
According to basic science, a matter changes its status when exposed to high temperatures. A solid changes into a liquid, a liquid becomes gas, and gas turns into plasma. The best thing about plasma cutters is they use high-intensity heat to cut material.
Now the flame requires us to go in the right direction. In this case, the blend of compressed air and multiple gasses push flame to the nozzle. Thus, the metal gets melted.
Does Plasma Cutting Result Get Affected by the Air Quality?
Yes, air quality plays a vital role in plasma cutting. If the compressed air contains oil or water, you will surely not get a good cut. The below consumables can greatly be affected by the bad compressed air quality,
Shield
Swirl ring
Retaining cap
Nozzle
Electrode
In addition, air controls dust. Due to the excessive dust, your equipment can be damaged severely. Also, you will experience a messed-up electrode responsible for an ugly cut.
An inline compressed air filter will be an ideal solution to improve air quality. Dust, moisture, oils, and other impurities can easily be avoided with assistance from the air filter.
All in all, if the compressed air quality is poor and unfiltered, you will get a bad cut, and the consumables will not extend for many days.
FAQ
What are the Benefits of Using Air Compressors in Plasma Cutters?
An integrated air compressor in a plasma cutter offers several benefits.
Metal cutting can be done with higher precision.
Pure plasma flame gives a clearer cut all the time
By adjusting the plasma cutter pressure, you can reproduce the same outcome over and over again
Should I buy an air compressor if it is not built-in with my plasma cutter?
Yes, investing in an air compressor will be worth the price. The most significant benefit is you can enjoy a cleaner and more precise cut. Additionally, if your project requirement is to make a repeated cleaner cut, investing in an air compressor is a must.
Can you run a plasma cutter without an air compressor?
Yes, you can run, but the result will surely not be precise.
Final Words
Hopefully, you got the answer to the question, "do you need an air compressor for a plasma cutter" reading this comprehensive guide.
Compressed air is mandatory for optimum cut quality. Without compressed air, making a good cut becomes impossible. So, check your project requirement and invest in a plasma cutter with an incorporated air compressor.