MIG welders are vital for building structures in the construction, automotive, shipping, and high-production manufacturing industries. Most welding DIYers use MIG welders for their easy-to-use characteristics.
Whether you need to weld car frames, lightweight aluminum household items, pipe welds, heavy steel construction, etc., a MIG welder will always come in handy. This welding process is highly versatile, allowing you to weld a wide range of metals.
This brief guide will discuss what is a MIG welder used for.
What is a MIG Welder Used for?
This welding type is so common because it can weld almost any metal. It is a cost-efficient, quick and beginner-friendly welding technique. At the same time, it is effortless for employers to train.
Let's see what it can weld and how industries get the most use of it.
Automotive Sector: MIG welding lets a mechanic in repairing cars, bikes, trucks, and other vehicles by providing a stable and reliable result. When you need to assemble the chassis of your cars and bikes, the MIG welder is one of the best tools to own. Most vehicles are now using aluminum parts. A mechanic can join different aluminum parts pretty quickly and efficiently. Thus, MIG welders are widely found in the automotive industry.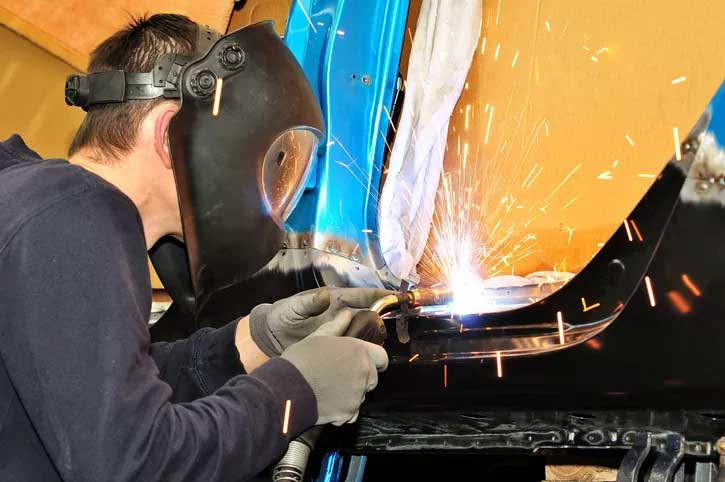 Construction: Steel is an inevitable metal in construction. If your project is to weld steel structures, MIG welders will be an ideal choice. This welding technique has been rising for steel construction and maintenance over the last few years.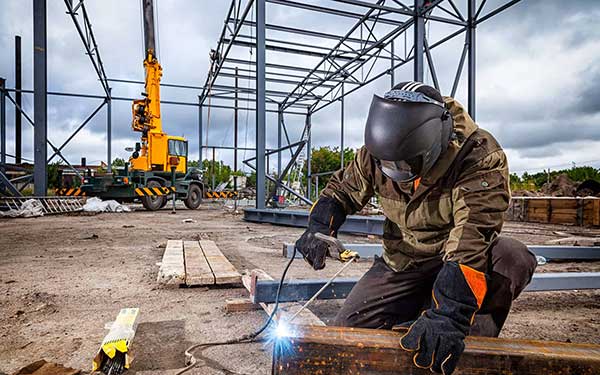 Large-scale Manufacturing: High production assemblies are making ship parts, car parts, computer parts, etc. Since MIG welders are timer-consuming and cost-efficient while maintaining excellent quality, using this technique saves valuable time, money, and effort. It can weld aluminum, cast iron, nickel, magnesium, and carbon steel without hassle.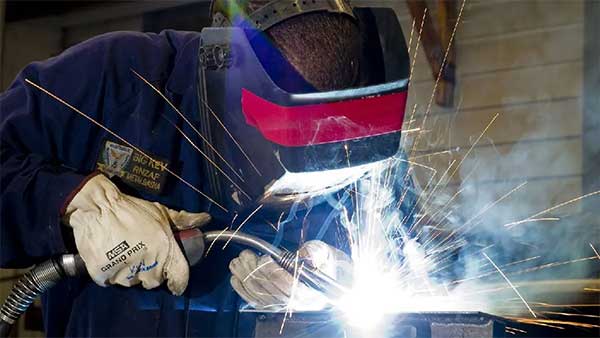 Robotics: Although robotics uses different welding techniques, MIG weld is preferred when the project needs to be completed quickly while maintaining the required efficiency. Also, for accomplishing simple maintenance tasks, MIG weld offers uniform and perfect welds.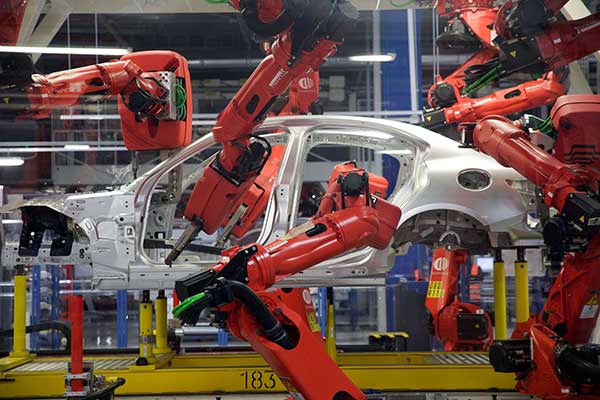 Can a MIG Welder Be Used to Weld Steel?
You will find multiple types of steel: alloy, tool steel, stainless, and carbon. The easiest to MIG weld is carbon steel, unlike other types. For this reason, it is widely used compared to other steels.
Carbon steel is the least expensive material. Simultaneously it is versatile too. MIG weld is a good choice for welding building parts like stairs and rails, making car frames, and other delicate steel projects such as furniture construction or lighting fixtures.
Steel is an excellent metal to learn MIG weld. Simply adjust the voltage and wire speed according to the thickness of the metal, and you are ready to start MIG welding carbon steel.
Can MIG Welders Only Weld Aluminum?
Different types of aluminum are available in the market. Aluminum is a lightweight material; it requires special care when MIG welding. For instance, aluminum can't handle excessive heat for prolonged times, so a delicate and quick hand is a must to weld perfectly. Moreover, your wire speed has to be faster to get a clean weld. Likewise, pushing the weld is necessary to avoid contaminated welds.
It means if you don't pay attention to a few factors, producing bad welds will be easier. So, while MIG welding aluminum, consider the below factors,
Aluminum thickness and alloy type
Make sure to start with clean metal. Use aluminum or stainless steel wire brush to remove oxide from the metal surface.
Use 100% argon gas
Can a MIG Welder Weld Stainless Steel?
MIG welding stainless steel has a few common things with aluminum and steel. It is a type of steel and not categorized as aluminum, but stainless steel requires cleaning before welding. Otherwise, the weld can be contaminated, similar to aluminum.
Selecting the right wire and gas type is also crucial when MIG welding stainless steel. Don't use more than 5% CO2 in the shielding gas.
Meanwhile, the most commonly used wire for stainless steel is 308, 309, and 316. But, it is mandatory to double-check the specific steel alloy you are welding.
Can a MIG Welder Weld Cast Iron?
Generally, cast iron is not a welded material, but welding can be done by a MIG welder when you are familiar with its exceptional qualities.
Cast iron features unique properties, which makes it distinctive welded material. For example, to MIG weld cast iron in winter, preheat it prior to the welding process. In this case, a torch will be beneficial to heat the metal. Don't rush when heating cast iron. First, hold the torch 4 – 5 inches away from the metal and move closer slowly.
Moreover, avoid welding the entire piece of cast iron because it can cause a crack. So, give a break after each inch of welding. Thus, the temperature will even out. Besides, let the joints cool down.
Plus, provide an incrementally low heat every 30 seconds for 3 – 5 minutes when welding. This will help the joint to cool down.
Can You Weld Magnesium with a MIG Welder?
MIG welding magnesium is similar to aluminum as they feel and look the same. Both MIG welding aluminum and magnesium require a stable hand, 100% argon gas, and faster wire speed. Even most of the time, the machine settings will also be the same.
However, magnesium requires a different wire made explicitly for this metal. Magnesium can break if you choose the wrong wire. Unfortunately, finding the correct wire is challenging and expensive too. If you are looking for MIG welding magnesium wire, go with AZ61A wire.
Last Words
So, what is a MIG welder used for?
A MIG machine can help you weld a lot of things. This is the most straightforward welding technique that you can learn within a short time.
If you are planning to get into welding, I recommend starting with MIG weld. You can work with different materials, and this welding technique is flexible enough for beginners.