A professional welder knows how beneficial it is to have a welder with 120V and 240V options. The available working voltage option may vary since pro welders handle welding projects in different places. In this case, the best dual voltage MIG welder comes in handy.
Dual voltage MIG welder has ideal features for both beginners and experienced welders. These welders have various advantages over conventional MIG devices. They do not require a separate AC/DC adapter and can be used in all conditions. Also, these devices are more cost-effective than gas-powered machines for their smaller size.
Different brands are manufacturing dual voltage MIG welders. So, finding the best option can be troublesome. We are here to save your valuable time and effort by presenting this comprehensive guide on the best budget MIG welder.
What is the Best Dual Voltage MIG Welder?
Best Overall: TOOLIOM Dual Voltage MIG Welder
Best Budget MIG Welder: YESWELDER MIG-205DS Multiprocess Welder
Best MIG Welder for Aluminum: WeldPro MIG200GDSV Dual Voltage MIG Welder
Best Versatile MIG Welder: MIG155GSV Dual Voltage ARC Welder
Best Multi-functional MIG Welder: HITBOX 3-in-1 MIG Welder
Best MIG Welder for Sheet Metal: MTS-205 110/230V Dual Voltage Welding
Best for Safe Operation: Morphorn 3-in-1 Dual Voltage MIG Welder
Best for Home Use: WETOLS 110/220V Welding Machine
Best Beginner-friendly MIG Welder: ZS-MICTEK Dual Voltage Welding Machine
Best for Precise Result: Hynade MTG225D Dual Voltage Welding Machine
Comparison Chart of the Best Dual Voltage MIG Welder
Read the comparison chart intently. Here we compared our selected dual voltage MIG welder's key features.
| | | | | |
| --- | --- | --- | --- | --- |
| Image | Product Name | Best for | Key Features | Price |
| | TOOLIOM Dual Voltage MIG Welder | Best Overall | i) One button selection design ii) 5 functions in 1 iii) 2T/4T operation method | |
| | YESWELDER MIG-205DS Multiprocess Welder | Best Budget MIG Welder | i) Synergic control ii) Gasless/Gas MIG welding iii) Automatic Protection Function | |
| | WeldPro MIG200GDSV Dual Voltage MIG Welder | Best MIG Welder for Aluminum | i) Space-saving unit ii) Dual digital display iii) User adjustable inductance settings | |
| | MIG155GSV Dual Voltage ARC Welder | Best Versatile MIG Welder | i) Energy-saving ii) High duty cycle iii) Compact and portable | |
| | HITBOX 3-in-1 MIG Welder | Best Multi-functional MIG Welder | i) Easy control panel ii) High-quality parts iii) Cooling fan | |
| | MTS-205 110/230V Dual Voltage Welding | Best MIG Welder for Sheet Metal | i) Lightweight ii) Reliable and efficient iii) Quiet operation process | |
| | Morphorn 3-in-1 Dual Voltage MIG Welder | Best for Safe Operation | i) Inner wire feeder ii) Excellent ARC stability iii) LCD digital display | |
| | WETOLS 110/220V Welding Machine | Best for Home Use | i) Higher current: 160 A ii) Over current light and power light iii) Welding Electrode: 2.5mm-3.2mm | |
| | ZS-MICTEK Dual Voltage Welding Machine | Best Beginner-friendly MIG Welder | i) Adjustable wire feed speed and welding current ii) Dual Voltage IGBT Inverter iii) Portable | |
| | Hynade MTG225D Dual Voltage Welding Machine | Best for Precise Result | i) 10 levels precise adjustment ii) Auto control voltage and current iii) Less spatter | |
Why Should You Buy a Dual Voltage MIG Welder?
Dual voltage MIG welders have been available in the market for several years. But still, people are unfamiliar with this device. This is because many are unaware of the benefits of a dual voltage MIG welder.
You will enjoy the below benefits from a dual voltage MIG welder.
Compatibility
Theoretically, these devices can be operated in 2 different voltages. So, when you need to work with 2 separate voltage settings, you don't need to invest in a separate welder with specific voltage settings. This is the main benefit of these devices.
Whether your working area power source is 120V or 240V, these devices are compatible with both voltage options.
Power and Efficiency
Dual voltage MIG welders are more powerful compared to single voltage MIG welders. At the same time, their efficiency is also high. Due to the combination of power and efficiency, they are suitable for professionals. Simultaneously, they can handle small-scale projects, which means you can use them for home maintenance or repair projects.
Can Make Strong Bond
A dual voltage MIG welder offers the best result when you need to make a strong bond between thick materials. The bond they create will be stronger and more durable. More importantly, these devices help you work with thicker materials efficiently.
Controls Splatter Effectively
Controlling the splatter is a bit challenging with single voltage MIG welders. Although splatter doesn't affect the bond, it makes the workpiece ugly. With a dual voltage MIG welder, you can control the splatter effectively. Thus, these welders leave a smooth finish.
10 Best Dual Voltage MIG Welder Review 2022
Our selected dual voltage MIG welder has distinctive features and benefits. The in-depth review section will help you pick your required welder easily.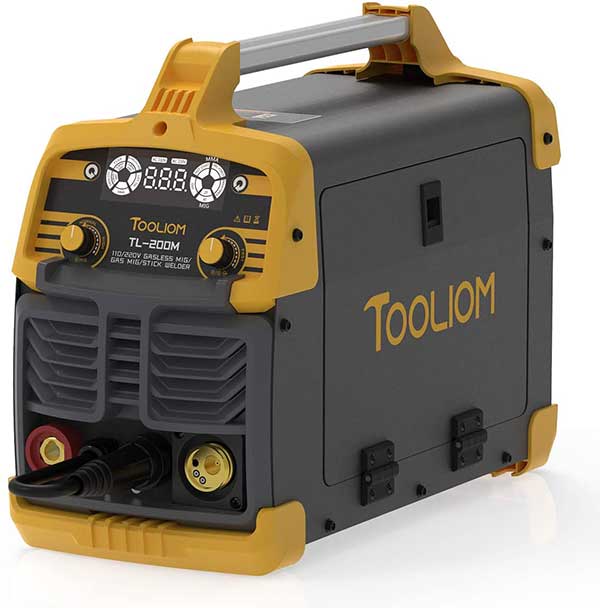 Technical Details
Weight: 20.5 lbs.
Input Voltage: 110 (120) V / 220 (230) V
Input Current: 32.5A(110V) / 23.2A(220V)
Duty Cycle: 60% @ 200A 100% @ 155A
Output Voltage: 24V
Output Current:200A
Best for: MMA, Lift TIG, flux MIG, gas MIG
The TOOLIOM Dual Voltage MIG Welder is a multifunctional device. You can effortlessly weld MMA, Lift TIG, flux MIG, gas MIG. It is a powerful device with 200A of maximum output current, allowing you to weld a mild up to 5/32" plate.
Features & Benefits
Synergic Adjustment Function: When working with this welder, you don't need to balance the power and wire feed speed. It features a synergic adjustment function, preventing all the guesswork. With this feature, adjusting the power becomes much more effortless. As a result, a beginner doesn't face the hassle of working with it.
Dual Voltage Input Design: The versatility and usefulness of a MIG welder rely on its operating voltage power. Dual voltage input functionality allows you to operate it using both voltages without buying another one. So, it is suitable for both professionals and beginners. Professionals also can go for it because it assists them in handling a wide range of welding projects. At the same time, beginners can improve their ability to handle larger projects.
Multiple Safety Features: Working with this welder for long hours will be safe and sound. Heat dissipation is prevented since it is manufactured with a heavy-duty cooling fan. Moreover, the internal parts come with automatic overload protection. These features ensure ultimate protection when you weld.
Lightweight and Portable: The construction of this welder is rugged and robust. It weighs only 20.5 lbs. A convenient aluminum handle on the top allows you to carry it from one place to another without hassle.
For:
Easy and straightforward to operate
Designed to give you superior safety when welding
Built-in heavy-duty meta wire feeder
Both professionals and beginners can get the most out of it
Easy to transport
Against:
Air hose quality is not that good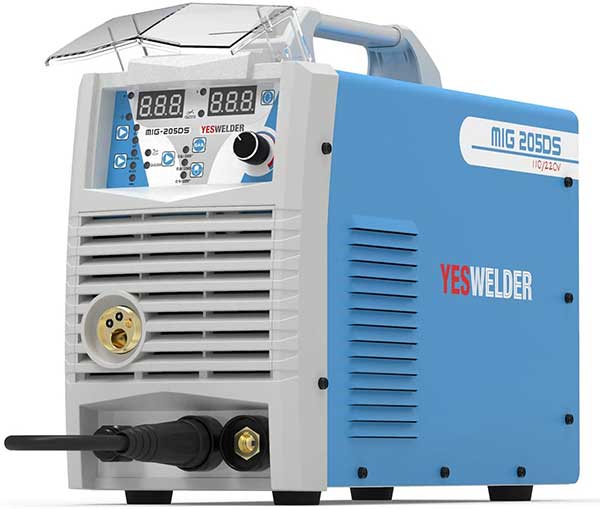 Technical Details
Weight: 33 lbs.
Product Dimensions: 18.5"X14.2"X7.9"
Duty Cycle: 60% (220v and 200 A). 100% (220v and 154 A)
Supply Voltage: 110v/220v 50/60 Hz
Protection Class: IP21S
Many people believe that a budget-friendly welder is not a good option. This conception is proved wrong with YESWELDER MIG-205DS. It is a lightweight, compact design, affordable, and has the ability to work 110V or 220V, making it worth the price.
Features & Benefits
ARC Quality: One of the strong points of this welder is the ARC quality. Professional welders are much more impressed with the quality of the ARC. More importantly, with little experience, you can keep the splatter to a minimum level. The inductance setting lets you fine-tune the ARC according to your welding requirement.
IGBT Inverter Technology: You will rarely find a welder at this price point with IGBT inverter technology. This technology reduces the size of the device while increasing versatility. Also, this welder consumes less electricity, helping you save valuable money.
Easy to Work Control Panel: Working with this welder is a breeze. The control panel has an adjustment dial that ensures fine adjustments. It also has a LED display, providing the necessary information at a glance. This device's controls are tucked behind a hinged transparent panel, preventing dust buildup in the control panel.
2T and 4T MIG Method: Although most welders prefer to use the 2T MIG method. You will love to know that this welding machine lets you use the 4T MIG method too. The 2T MIG welding method is beneficial for a precise spot welding result. While the 4T method makes a larger welding project easier, you don't need to release it to continue welding after pulling the trigger.
For:
Dust cover protects control panel from dirt
Gas-on button for setting up a regulator
Dedicated 100% Co2 setting
Utilizes 110V or 220V power supply
Thick steel construction
Against:
Consumables are not included; you need to buy separately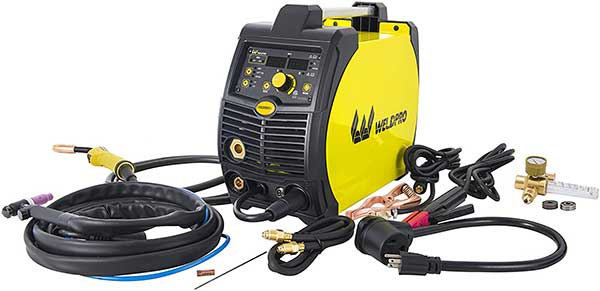 Technical Details
Weight: 30 lbs.
Dimension: 25.2"X12.8"X23.8"
Duty Cycle: 115V: 30% @ 120A, 100% @66A; 240V: 30% @200A, 100% @110A
Input Voltage: 115V / 240V
Welder Type: MIG, Flux-cored, DC Lift TIG, Stick
Transformer Technology: IGBT
Are you looking for a welder with multiple welding procedures in one box? Don't look further and buy the WeldPro MIG200GDSV Dual Voltage MIG Welder. It can do MIG, flux-core, TIG, and stick weld and put a maximum of 200 AMPS of power. However, it also can weld aluminum. Simply remove the torch and install a spool gun if you require welding aluminum.
Features & Benefits
Dual Input Voltages: Like all other standard multi-process welders, it also has a dual input voltage, making it versatile. This welder runs at 120V and 240V power supplies, allowing you to extend your welding capability.
MIG Inductance Control: This feature is available in the most expensive models. The responsibility of inductance is to maintain the metal transfer, splatter, and arc behavior when welding. Control and fine-tune your welds according to your preference.
Wide Range of Metal Work: When you have this welder in your workshop, you can weld steel, stainless steel, magnesium, and copper without hassle. Moreover, welding brass and bronze is also possible once you get familiar with them.
Dual Digital Display: It is engineered with an easy-to-read dual digital display, giving you the freedom to precisely set the amperage and wire speed. Additionally, repeatable welds save the settings and permit you to select them whenever required.
Portable: The welder weighs only 30 lbs. and size is also so compact. You can easily put it in the back of your truck and carry it wherever needed.
For:
A versatile piece of equipment
An affordable option that lets you get the welding done efficiently
Synergistic design for easy adjusting of the voltage and wire-speed
Overload and VRD high-temperature protection
Compact and space-saving unit
Against:
Unsuitable for heavy-duty work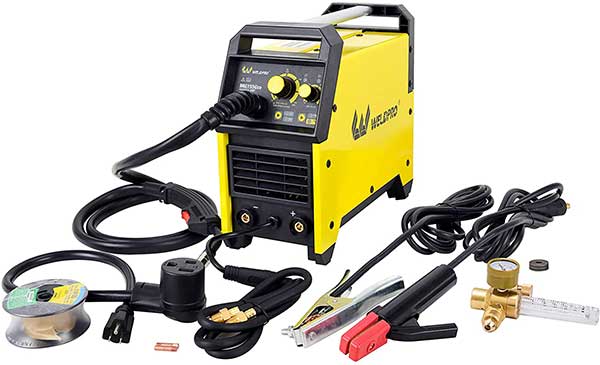 Technical Details
Weight: 35.7 lbs.
Dimension: 20.7"X11.6"X22.4"
Welder Type: MIG, Flux-Cored, Stick (TIG w/ optional torch)
Input Voltage: 115V / 230V
Duty Cycle (115V): MIG: 30% @ 120 A; Stick: 30% @ 110A
Duty Cycle (230V): MIG: 30% @ 155 A; Stick: 30% @ 140A
Transformer Technology: IGBT
Versatile, sturdy, compact, and robust – these words perfectly match the MIG155GSV Dual Voltage ARC Welder. Primarily, it is a MIG welder but also offers stick welding and flux core, making it a multi-functional welder. It has a lot of outstanding features to serve all your welding requirements.
Features & Benefits
Satisfactory Performance: This welder's efficient and powerful performance will surely satisfy you. A user can customize the settings as per the project requirement. Moreover, you can enhance the machine's ability by adjusting the infinite heat settings, and wire feed settings are very much possible. It can weld mild steel up to ¼" and 78-396 /minute in its wire-speed range.
Double Volt Settings: With 110V/115V and 220V/230V settings, this welder permits you to handle different projects with multiple voltage options. For smaller home projects, set the voltage settings to either 110V or 115V. On the other hand, 220V or 230V will come in handy for handling complicated projects.
Compact Design: Smart, thoughtful, and compact design increases the value of this welder. It measures 20.7"X11.6"X22.4", which means it takes less space in your garage. It can be fitted in a compact area without trouble.
Excellent Portability: The unit weighs only 35 lbs. giving you excellent portability. Plus, it has a grip that comes in handy during the carrying purpose. Since transportability is high with this welder, you can use it in your home, garage, shop, commercial site, industrial area, or wherever you need it.
For:
It can handle MIG, Flux-core, and stick welding
Automatic overheat and over-current welding protection
The device delivers quality weld all the time
So easy to move using the convenient grip
Quality made regulator and hose
Against:
Low duty cycle with some materials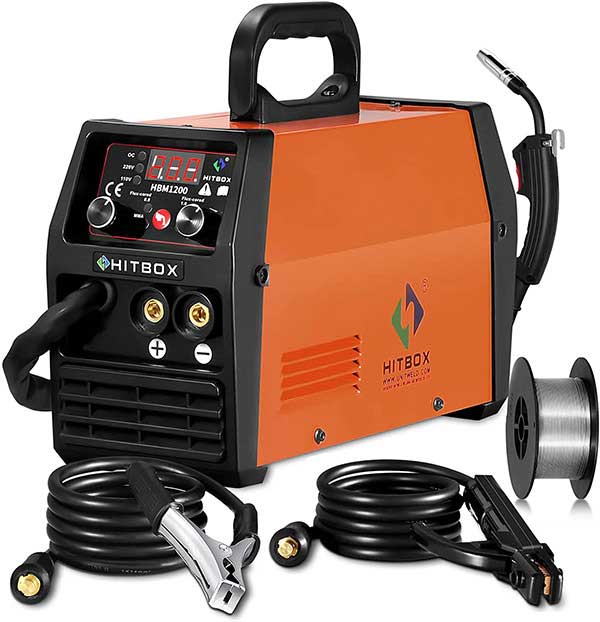 Technical Specifications
Weight: 10.14 lbs.
Duty Cycle: 35%
Inverter Technology: IGBT
Input Voltage: AV220±15%V
Dimension: 13.39"X5.35"X9.76"
If your requirement is an easy-to-control welder, then this HITBOX 3-in-1 MIG Welder is for you. It efficiently does MIG, TIG, and ARC welding. This is so powerful, ideal for light to medium welding work. Controlling the voltage is extremely easy. It consists of many standards and essential features which are not easily found on welders in this price range.
Features & Benefits
Dual Voltage Welder: Theoretically, a dual voltage welder works efficiently on both voltages, eliminating the requirement of buying a separate welder for areas where the required operating voltage is unavailable. You can use it in your home, garage, and farm without thinking twice.
Easy Control Panel: When you buy a welder, the ease of control feature is significantly necessary. Nobody prefers to work with a difficult-to-handle welder. You will love to know that the control panel will give you peace of mind. The control panel is intuitive to navigate and effortless for both the welder and the supervisor.
Adjustable Power Settings and Wire Feed Speed: The accuracy and smoothness of a welding result depend a lot on the wire feed speed. This device's wire feed speed comes with an adjustability feature to suit your applications. In addition, a smooth arc brings you a decent job.
40% Duty Cycle: This 3-in-1 welder has a 40% duty cycle @ 120 AMPS, protecting the device and you from long-lasting damage. You may feel irritated when the unit switches itself off after 4 minutes, but it is for the longevity of the welder.
Overload Protection: Voltage and current can exceed their range when welding. Thus, the welder will damage, and you will not get the expected outcome. It features overload protection to ensure efficient output and protect the welder from damage. Due to this feature, the device stops working automatically when it detects over voltage and over current, keeping the device safe to work.
For:
Simple to work for the control panel
It welds carbon steel, stainless steel, or iron
The unit offers long-lasting service
It turns off automatically when overload detects
Space-saving design
Against:
TIG torch is not included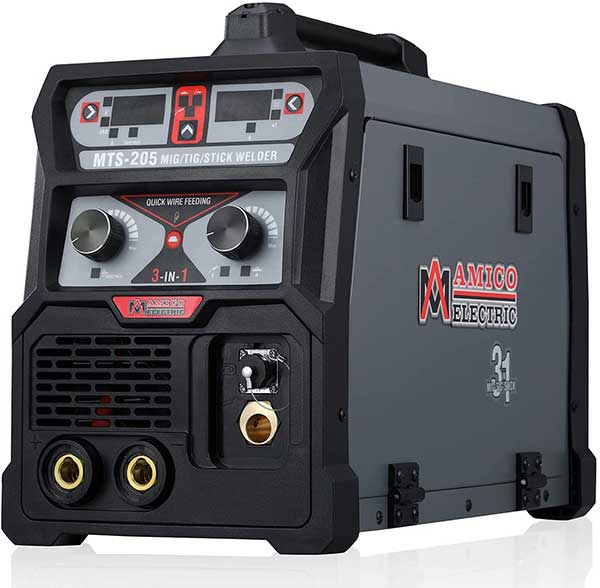 Technical Specifications
Weight: 27 lbs.
Dimension: 18"X9"X14"
Amperage Capacity: 200 AMPS
Duty Cycle: 60% at 205A, TIG: 60% at 170A, STICK: 60% at 170A
Efficiency: 93%
Pulse Frequency: 200 Hz
Whether you need to weld aluminum or stainless steel, the MTS-205 110/230V Dual Voltage Welding delivers efficient results every time. It is also compatible with carbon steel, copper, cast iron, aluminum alloy. This means it is a complete package and suitable for several welding types.
Features & Benefits
Intelligent Power Supply System: The unit detects input voltage automatically and switches between 110V and 230V easily. Thus, it is ideal for completing the application in construction sites, docks, and house maintenance. It can even be used for agricultural purposes.
Impressive Build Quality: Steel construction makes this welder much more durable than its rivals. Other parts are also made of high-quality plastic, making it safe and secure to use. Simultaneously, impressive build quality confirms many years of service.
Temperature Control: Automated temperature control technology gives you peace of mind when working with it in the home. This feature reduces noise and gives you the highest comfort. It is one of the efficient welders for any task.
Multiple Welding Modes: You can handle 3 welding styles using this machine: MIG TIG Stick Arc, making it a 3-in-1 welder. So, purchasing different types of welders is unnecessary. This way, it helps you save valuable time, money, and effort.
Extremely Portable: Construction welders prefer this unit over other models for its portable feature. It can be carried conveniently using the included handle. Also, the ergonomic design lets you store in tight corners quite easily.
For:
Incredibly easy to use
It is a package of several safety features
3 welding options make it sufficient for construction welders
It is compatible with 2 lbs. and 10 lbs. spool
The machine runs very quietly
Against:
A foot pedal is unavailable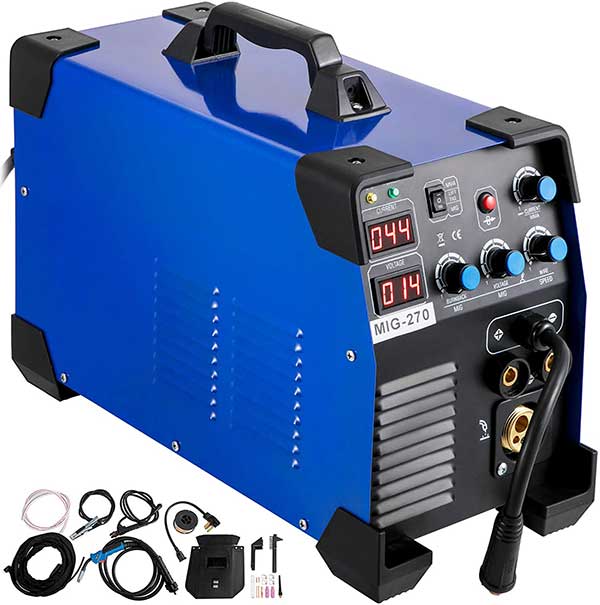 Technical Specifications
Weight: 21.7 lbs.
Dimension: 18.1"X8.3"X13"
Current Range: 20-270A
Protection Degree: IP21S
Wire Thickness: 0.024" & 0.031" & 0.039" / 0.6 mm & 0.8 mm & 1 mm
Welder Type: MIG, MMA, TIG
In terms of delivering the best ARC quality, the Morphorn 3-in-1 Dual Voltage MIG Welder is the CHAMPION! It is a professional MIG welder offering several helpful features to make your welding task easier.
Features & Benefits
Upgraded IGBT Inverter: The IGBT inverter technology allows you to get stable ARC, firm thrust, small splash, steady and anti-interference performance. At the same time, operating the unit is superbly easy, making it a beginner-friendly welder. Also, professionals can get the most out of this welder.
3-in-1 Welder: Operating procedure is simple and has pretty straightforward functionality. You can effortlessly switch between the MIG, TIG, and MMA modes through the control panel. More importantly, welding voltage, current, and wire feeding speed can easily be adjusted as per the welding projects and different thicknesses material.
Dual Voltage & Mini Size: If you need to handle several welding projects in different areas of your city, this welder would be helpful. Lightweight (21.7 lbs.), compact design, comfortable carrying handle lets you carry it in the farthest place without problems. Dual voltage supports you in completing projects in any area.
Built-in Protection Features: This welder comes with overload protection, over-current protection, and overheat protection. It shuts off by design when current, voltage, and load exceed their required range. Also, dust can't enter its housing due to the cooling fan, ensuring long-term welding.
For:
The unit offers stable performance
You will get continuous high efficiency
It delivers perfect welding effects
Easy to carry anywhere you want with 21.7 lbs.
60% duty cycle ensures effective long-term welding
Against:
The power switch is inconveniently located.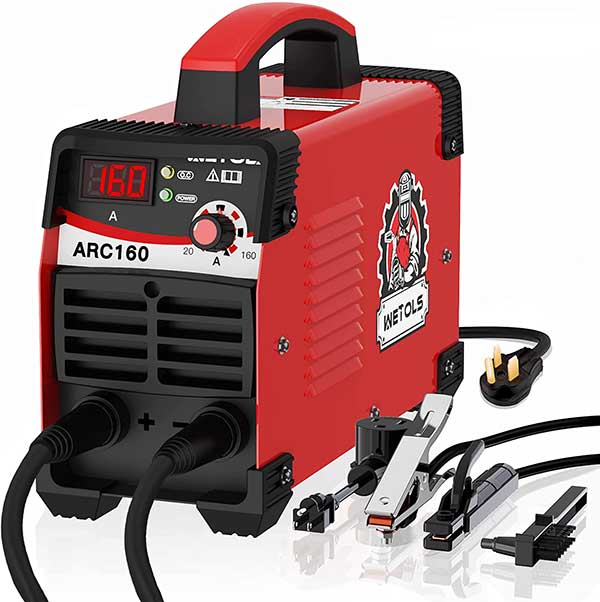 Technical Specifications
Weight: 9 lbs.
Dimension: 13.4"X8.66"X5.31"
Material: Steel Frame and Plastic Handle
Inverter Technology: IGBT
Duty Cycle: 60%
Protection Grade: IP21
Efficiency: 85%
Features & Benefits
Want to get a professional finish in a different home welding process? Experience several benefits of MMA welding by using the WETOLS 110/220V Welding Machine. This compact welder combines extreme durability, safety, and high accuracy.
Reliable and Efficient Welder: This powerful 160 AMP welder is efficient enough in handling welding projects of steel, cast iron, stainless steel, and mild steel. Moreover, smart IGBT inverter technology combines a unique control mode to give you reliable performance. It comes with 3/32" -1/8" welding electrodes, enabling you to complete home maintenance chores.
Energy Efficient: IGBT tech ensures a stable current that helps in reducing the damage of iron and copper. At the same time, the mechanism increases the welding frequency and ensures remarkable energy optimization.
Automatic Shut off Protection: Over-heat, over-current, and overload can damage the welder. Also, these factors increase the chance of an accident. This unit automatically shuts off and indicates light when current, voltage, and load exceed their limit to ensure safe operation.
LCD Display: The manufacturer designed it, especially for beginners. For this, it has an easy-to-read LCD display, helping you to operate the unit effortlessly by providing the required data. A novice can use it for practicing purposes to hone their skill.
Protective and Durable Design: Steel frame and plastic handle facilitate the durability of this unit. The corners are also protected with rubber which blocks damage and bumps. Easy carrying handle, lightweight construction guarantees convenient carrying of the item.
For:
Great for indoor and outdoor work
Prevents overheat and over current to ensure safe operation
It maintains a proper arc with less splatter
High efficient fan promotes body heat dissipation
Structurally strong with steel construction
Against:
Poor quality ground clamp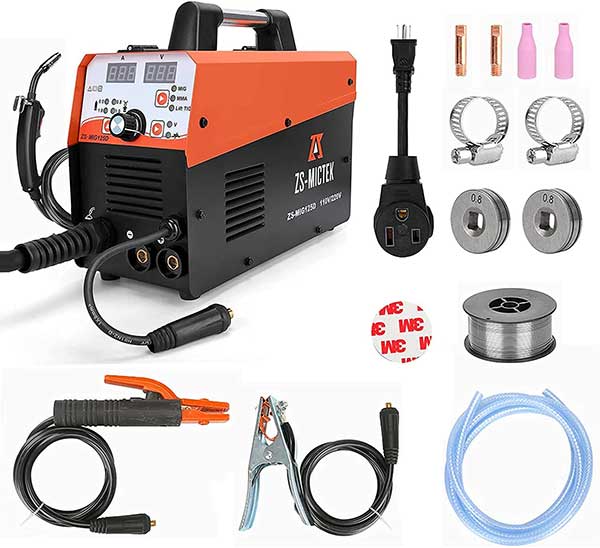 Technical Specifications
Weight: 17 lbs.
Dimension: 16.53"X11.02"X12.20"
Duty Cycle: 60%
Protection Class: IP21S
Efficiency: 85%
Inverter Technology: IGBT
Massive bonding between metal materials like steel, mild steel, stainless steel, cast iron is only possible using a reliable welder. It delivers strong welding performance and can be used for diversified usage scenarios. You can use it in gas and gasless conditions, providing an excellent welding effect.
Features & Benefits
Multi-functional Welding Machine: You will hardly find any welding applications that can't be done with this device. It is a 4-in-1 welder suitable for MIG, Solid Wire, Lift TIG, and Stick ARC. So, if entry-level welders want to take their welding skills to the next level, this would be a great choice to start with.
Adjustable Wire Feed Speed: Weld metal materials of different thicknesses taking assistance from its adjustable wire feed speed. This feature allows you to adjust the wire feed speed and welding current according to the welding applications. Simultaneously, welding metal materials of different thicknesses become convenient with this welder.
Compact Design and Transportable: The measurement of this welder is similar to an oven. So, you will never face trouble storing the unit in your garage, back of your vehicle, or any other tight space. Lightweight design and convenient grip also permit you to carry your job site comfortably.
Well-designed Control Panel: You will find each welding information in its control panel. More importantly, the control panel lets you work with the unit conveniently. Overall, it is a package of all beginner-friendly features.
For:
Easy to adjust settings to suit your welding requirements
Ideal for outdoor welding
Undergoes several tests to ensure reliable performance
Premium-quality structure
All necessary equipment is included
Against:
Unsuitable for professional use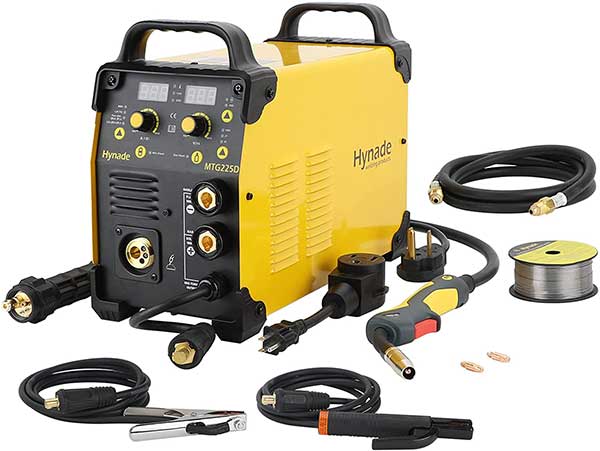 Technical Specifications
Weight: 30 lbs.
Dimension: 19.3"X 12.5"X9.75"
Duty Cycle: 60%@225A 220V 25°C
Efficiency: 85%
Protection Class: IP21S
Input Power Voltage: 110V/220V±15%
Do you need a welding machine that offers the best result when precision is the top priority? The Hynade MTG225D is an all-rounder that meets every requirement of a professional welder. This multi-functional welder can use Gasless wire MIG, Gas wire MIG, Lift TIG and stick.
Features & Benefits
Multi-Use: It is efficient enough for welding different metal materials such as stainless steel, mild steel, etc. The unit makes repairing tasks easier. Also, you can use it to weld cars, windows, carports, doors, pipes, and many more.
One-knob Intelligent Control System: Strategically designed MIG welder comes with a basic one-knob intelligent control system for your convenience. Welding voltage and current adjustment automatic compensation make getting the expected welding easy.
Safe to Use: This welder has all the necessary safety features. Overheat, and overcurrent protection control the right current and voltage level for safe use. Moreover, the integrated cooling fan system keeps the internal parts free of dust.
2T and 4T Functionality: Another impressive feature of this unit is the 2T and 4T method. The 2T method permits the user to do spot welding. While, the 4T method lets you keep your fingers free when welding.
For:
MIG, TIG and MMA welder
Multi-purpose welder
Easy to set up
Convenient storing due to the compact design
Effortless carrying
Against:
The feeder gun hose is fixed to the welder and makes it hard to put back in the box
Buying Guide: How to Buy the Best Dual Voltage MIG Welder
MIG welding is getting popular among hobbyists and professionals for portability and power. We all want to buy an all-in-one solution for everything.
However, when buying a MIG welder, you must consider some points to determine which one will be best for your work.
Power
The first thing you need to consider is the power of the welder. By power, we mean amperage. It can affect multiple other factors when you are welding. So it is important to choose the right one with the right range.
For a thin material like ⅛," you will probably need 15-30 AMP power. On the other hand, thicker materials like ½," bars need at least 140-AMP.
So, if your welder is lower than 120-AMP, it won't work on heavy welding. Also, MIG welders with a minimum of the 75-AMP range are bad for thin materials.
For small to heavy-duty welding, you have to find the best welder that meets the sweet spot.
Wire Feed Speed
You have to control the wire feed speed because it directly affects amperage. So getting a welder with a wire feed speed controller is a must. Wire Feed Speed heavily impacts the welding quality.
Most of the time, you will find the wire speed chart on the welder body. At the same time, you have to maintain the perfect balance in material, amp, and wire feed speed for the best output.
If the feed speed is too low, the wire will disappear as soon as it touches the metals. It will result in an uneven weld, and its quality won't be so good. Also, when feed speed is faster than necessary, it will create a spatter.
Portability
Performance is the top priority for any machine. However, both DIY and professional welders who move around for work must consider portability. Keep in mind that adding more features in a welder adds weight.
When it weighs more than 70 pounds, transporting it is an issue you need to handle. So choose one as light as possible without reducing the power and performance of welding, of course. So take all your considerations while buying a welder!
Voltage Settings
Voltage setting and wire feed speed need to be in a balance. So it would be best if you looked for a welder that will match the voltage range and the wire speed of your feed wire. Perfect voltage balance can give a better arc, but it can also melt the wire.
Low voltage and high wire speed will result in poor weld penetration. Even when you keep the voltage steady, lower wire feed speed will increase spatter and ugly welding.
Duty Cycle
A welding machine's duty cycle is the % of time capable of safely at a specific amperage within a given time.
Let me explain with an example. A welder that has a 40 percent duty cycle in 70-AMP, which means it will work properly for 4 minutes in 70-AMP. The welder will heat up too much and won't weld well. Then you will have to give it 6 minutes to cool off.
Changing Amperage to 140-AMP will cut down working time by 2 minutes. And increase resting time to 8 minutes.
Keeping the APM in the lower range can increase the flow of the duty cycle. If you have to work with thicker materials, the duty cycle should be one of the major concerns.
Input Power
MIG Welders come in various voltage ranges. You can find 110/115/120V or even 220/230/240V MIG welders that work in different environments. 110V won't handle 220V, and 240 won't even work in 110V input.
Dual voltage MIG welders give you the flexibility to work on both conditions. Yet you need to check if the welder is actually in the 110v to 220v range.
Because a dual voltage can be in 110v to 170v or even from 200V to 400V range, which won't help you, get the one that fits your input range.
Output Power
Output power depends on various other elements, excluding the welder itself. And you have to understand what you are looking for from the welding materials. Stainless steel needs 10% less power, and aluminum needs 25% more.
The feed wire diameter also varies the output amp. The simple method to understand is thinner diameter generates less and thicker generates more output power. Usually, you will find the output power chart list on the welder's body.
How Dual Voltage MIG Welder Works
MIG welding is a process to weld metal. MIG stands for Metal-Insulator Gas which lets you achieve welding without using an arc or flame.
The MIG welder uses this concept by converting electricity into plasma that permits it to be used on aluminum, stainless steel, and other similar metals. They do not require heating or melting to continue fabrication simply by providing energy supply instead of relying on fire flames. This gas is commonly a mixture of argon and regular oxygen (usually 2:1 ratio).
The primary mechanism of a dual voltage MIG welder is pretty straightforward. It converts the AC into DC to function correctly. Also, you don't have to worry about the input current because the machine will adjust the setting.
Let me make it simple for you. If you have a 110V to 220V Dual Voltage MIG Welder, no matter if your input is 110V or 220V, it will operate on the output you want. When working in a home electricity environment, it will provide 110V power. And when you have 220V or up industrial input, it will work on that equally well.
How to Maintain Your Dual Voltage MIG Welder?
Whether you do welding for a living or just for DIY hobbies, you must want your welder to last long. For that, taking care of the welder is a must. Although you don't need to take care of the machine like a puppy, some cautious steps can make the life of your welder a little long.
Cover it when not using
Covering the machine with a heavy sheet makes sure it's not getting dusty. Especially if your garage or stock room is dusty, you want to cover the welder to prevent dust and protect it from damage. You can also find a cover for your welder from the manufacturer or buy it separately.
Clean the drive rolls
One thing most people forget to do is always clean the drive roll after every use. The carbon erosion can damage your machine if not cleaned properly with a brush or just wiping it off gently through a cleaning solution you could buy for this purpose.
Also, make sure that no debris remains on the extruder nozzle. There are many troubleshooting ways, including using a piece of saran wrap stuck tightly over all threads at both ends before drawing and also trying to turn the belt off if it fails. Or you can blow air in the rolls.
Coat the Contact Tip
When using the MIG gun frequently, the contact tip can become contaminated. The spatter from the feed wire gets stuck in the contact tip resulting in porosity. Too much splatter can damage your MIG gun contact tip because it decreases the flow of shielding gas that protects the contact tip. To avoid this, you can use a nozzle dip coating that prevents spatter from sticking in the tip.
Check the main wire frequently
Before and After every use and check the main wire of the MIG gun. Spatters can burn the rubber cover and expose the copper wiring. And if you are not careful, you can get an electric shock, or any other accident can occur. Not just that, if the power cable loses energy due to a leak, it will also affect the welding efficiency. So take a good look for any damage and replace the cable if necessary.
FAQ
What Is a MIG Welder Best Used for?
MIG welders can work on both thick and thin materials. But it works best in thinner materials and for beginner welders. It does lesser damage because of better control, and the electrode instead of the flame creates less heat.
It works on Carbon Metals, Aluminum, Magnesium, Copper, Nickel, and other alloys. And you can repair car parts, motorbikes, or any other thinner materials without damaging too much.
What are some welding tips for dual shield welding?
Everyone has their strategy for working. But when a newbie starts welding, sometimes it can be overwhelming. Therefore, here are some essential tips that you can follow as a beginner.
Don't go 100% argon. It is costly and weakens the welding performance.
Use 75-25 or Argon-Carbon Dioxide mixture, which helps in the perfect welding
Try drag welding in the backhand instead of moving forward.
Drag welding is safe when welding horizontally.
Use Side by Side welding when you are doing it Vertically.
Two preferred methods to avoid undercut are upward V or Triangle series.
Keep the gun 90° and pull angle maximum of 10° for best welding.
You will need a dual shield or flux core arc welding in tight spaces or indoors, so make sure you have enough ventilation.
Are dual voltage welders any good?
Dual voltage welders are excellent in both performance and portability. You can get 2 outputs from 110V to 220V or 120V to 220V, and in both voltages, it works evenly. You can get 120V for small jobs and change to 220V when you need more power from the welder.
What size MIG welder do I need?
You need to understand some factors before getting the best size MIG welder for yourself. You have to determine the Power Output of your working station, Thickness of material, and type of materials. Additionally, your experience plays an important role as well.
For simple garage repair like fixing your motorbike's broken parts, you don't need to go with a big-sized welder. Also, looking at the feed wire and type of welding, you might have to go with a different power MIG Welder.
According to experts, a 0.30-inch feed wire is best for beginners working on a 40-140 Amp welder.
A small MIG welder around 70lbs is fine. Because going to a bigger size will need a wheeled cart to move around.
Can I use a step-down transformer to power a 220v welder on a 110v circuit?
You can't use a step-down transformer because you will need a step-up transformer for doing that. Theoretically, using a 220V welder on a 110V current with a transformer is possible.
However, that can cause a severe heating issue with your transformer. Also, a 110V circuit can provide 15 – 20 amps, whereas you need at least 50 amps to run some welders.
Wrapping Up and Top Pick
When buying the best dual voltage MIG welder, the most important thing is to know your requirements well. Hopefully, this comprehensive guide will help you buy a suitable device. Remember to consider what you will be welding. Also, make sure your selected device has enough power for the work you need.
Among the all dual voltage MIG welders we reviewed above, the TOOLIOM Dual Voltage MIG Welder is our top pick. This device gives you enough confidence to complete larger and small-scale welding projects. It has an excellent duty cycle of 60% @200A and 100% @ 155A can be used for multifunction jobs. Also, the 2T/4T method lets you do spot welding and continuous long-term welding with ease.